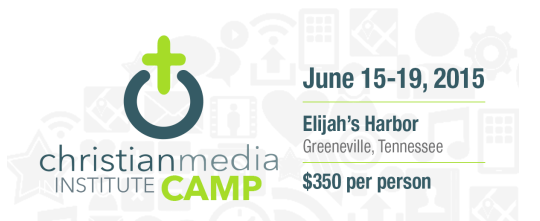 The Christian Media Institute is the teaching arm of Christian Media International. We are passionate about equipping Christians to reach the world both in their backyard and around the globe with the message of the Gospel using the powerful tools of media. With this purpose in mind CMI Camp is planning to teach and train young people with expert instructors in an incredible environment during a concentrated period of time.
The very first CMI Camp will be held June 15-19, 2015. Campers may begin arriving at 5:00 p.m. on Monday, June 15 and the camp will close at 10:00 a.m. on Friday, June 19.
The total cost of camp is $350. This includes: lodging, meals, activities, session notes, a camp t-shirt and so much more! A $50 registration fee is required to secure your spot and the remaining $300 is due on April 1, 2015. After April 1, 2015 if your balance is not paid we will refund 50% of your registration fee and offer the open spot to the next person on the waiting list.
Who should consider attending? Any single man or woman between the ages of 16 and 22 who has a passion for media and a desire to use their God-given abilities to better share the Gospel should consider making the investment of time and money to be a part of CMI Camp. We are limiting the number of attendees to only the first 30 registrants to ensure that you will have plenty of one-on-one training and opportunities to develop your talents.
For more information or to register go to- www.christianmediainstitute.org